CSI's pull through welder system is durable and reliable yet simple to operate and maintain. It can be customized to suit specific production requirements.
The automated pull through welder system is fully integrated, with improved process control from fit up through tack and weld. Utilizing advanced methods of motion control and sensing, this system is capable of producing consistent and higher quality beams with reduced set up time and operator dependence.

For inquiries, please call us at 905-681-1580 or send an email to
General Capabilities
The overall system can be configured to suit your production needs with a range of capacities and levels of process automation. It is perfectly suited for structural, large vehicle, and custom beam applications.
Features:
Advanced technology for industry-leading product quality
Extremely rigid structural tube framing construction
Highest quality standard components and engineering incorporated for machine reliability and life
Operator-friendly HMI and integrated LAN
Welder Station
The field-proven process easily meets construction and military transpotation codes for dimensional and weld quality.
More features:
Positive and negative taper capable
Servo-positioning weld head with non-contact digital seam tracking for optimum weld quality even with material variations
Master and slave drive for weld heads allows for linear passage of the beam through the weld station
Variable hydraulic clamping on flanges and web
Integrated twin wire sub arc welding with flux deposit and recovery
Pull Through Station
Every aspect of this station has been evaluated and redesigned to reduce set up time while improving the quality of the product.
Features:
Fully-synchronized in and out feed conveyors in perfect synch with both weld head drive roller sets — no more beam distortion caused my shimmying
Independent motion of each weld head produces consistent indivudual seam and beam to beam welds
Heavy industry-grade ball screws, servos and pneumatic compnents improve reliability
Auto clamp and unclamp reduces set up time to improve "weld-on" percentage of total cycle
Control System
Developed with ease of operation, productivity, and beam quality in mind, CSI's motion control expertise is evident in the design and functionality of the welder's control system.
It uses Siemens industrial controls: a Siemens PLC, six servo mortors and drives, and a 10" Siemens touch screen with a CNC operator keyboard. The field devices that come with the system are all solid state for reliability. All the software is written by CSI and we can customize it to suit your needs.
Features:
Recipe-driven weld and clamp set up with memory to save up to 100 beams set ups for automatic beam loading
Flexible operation of stations in manual or auto mode
Manual controls for all axes
Descriptive HMI displays for system status and fast troubleshooting
"On the fly" beam feed rate change with full drive and conveyor customization
Network connection to your existing control logics PLC
Optional Equipment
Web Seamer
Servo-driven in-feed rollers and automatic clamping allow for quick and easy seam welding. The system comes complete with automatic weld flux dispensing and recovery units, and features a selection of flux beds: copper, flux, and flux bag.
Fit Up and Tack
Uses localized web and flange claming for a tight fit at the tack station ensures quality alignment and operator-appropriate controls ease of function. This is the first step to producing a better beam.
Features:
Magnetized flange alignment rollers and web plate lift for easy lift up
Strategically located alignment and clamping features ensure dimensional and structural integrity of the finished product
Ruggedly built to endure harsh environments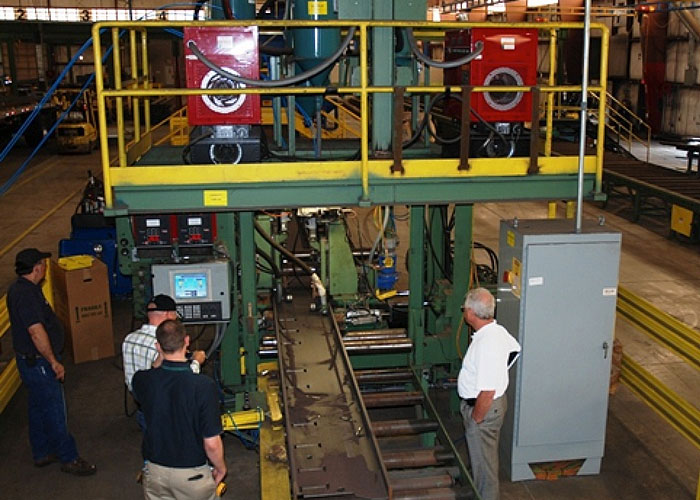 Pull through welder system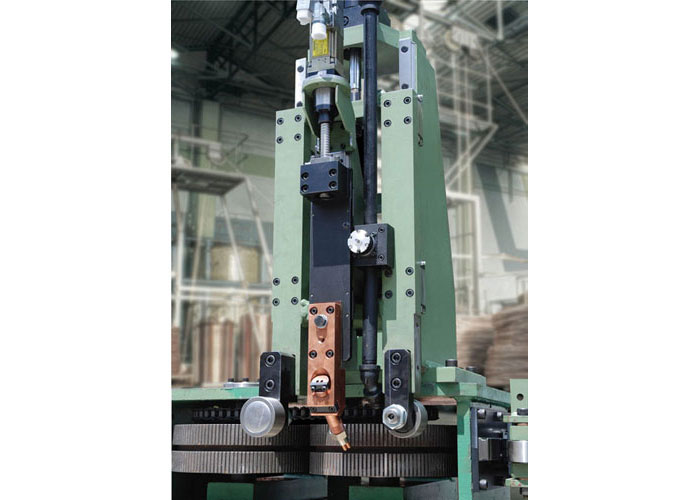 Welder, side view
Welder, top view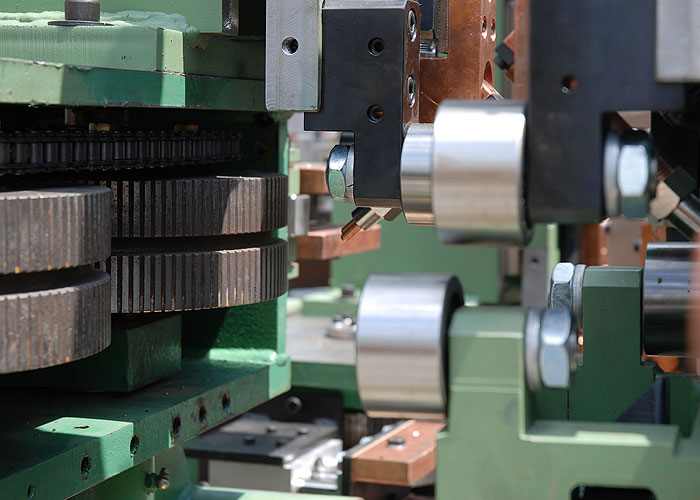 Welding head, close up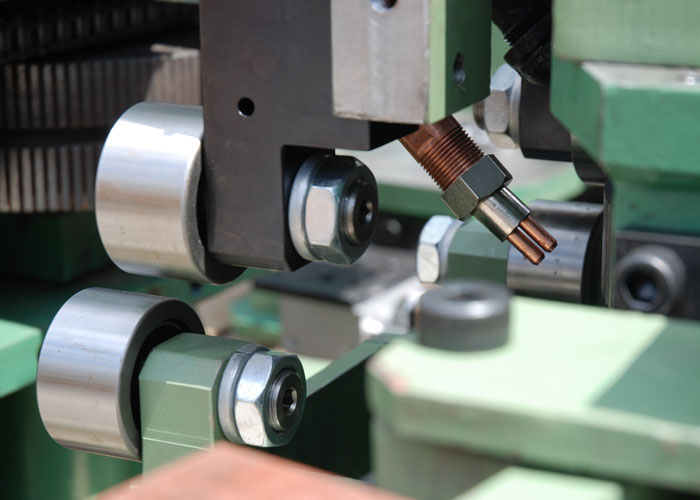 Welding head, another close up view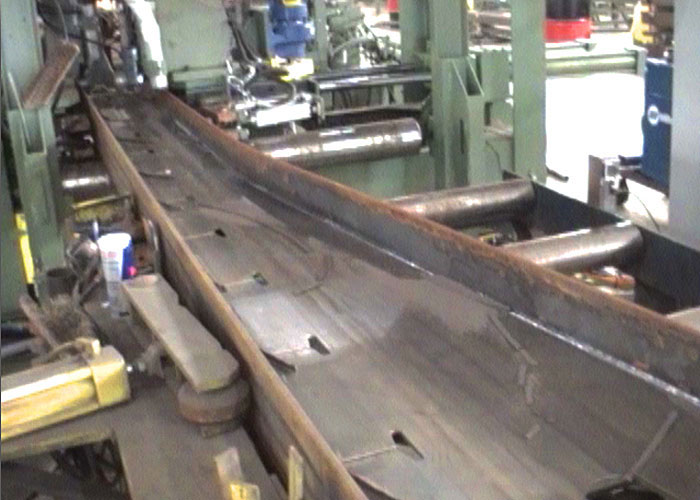 Angled beam during welding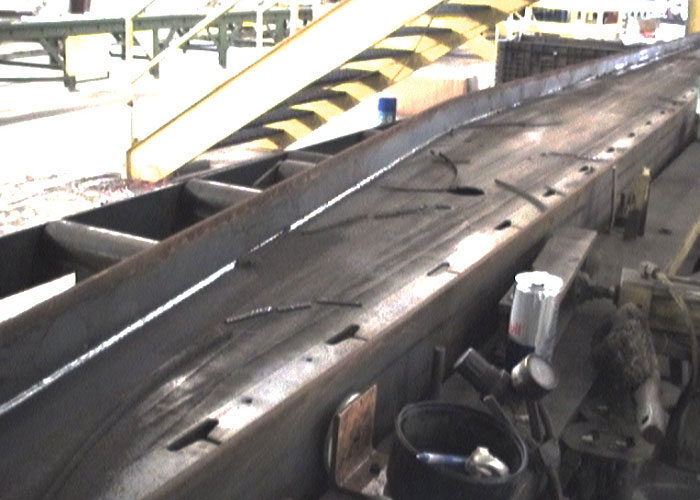 Angled beam after welding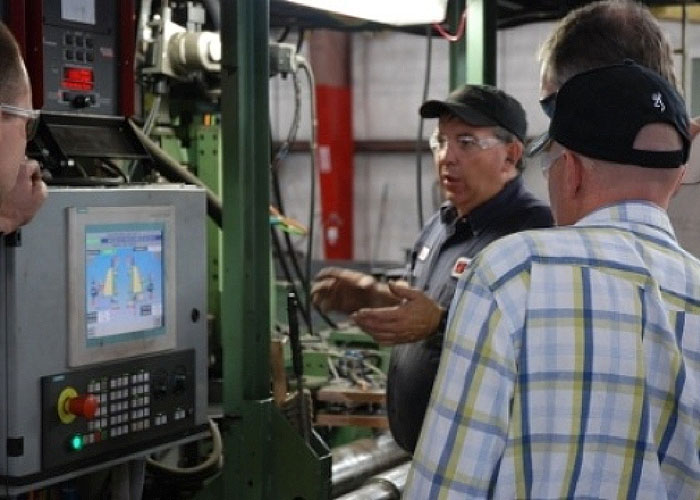 View of the control panel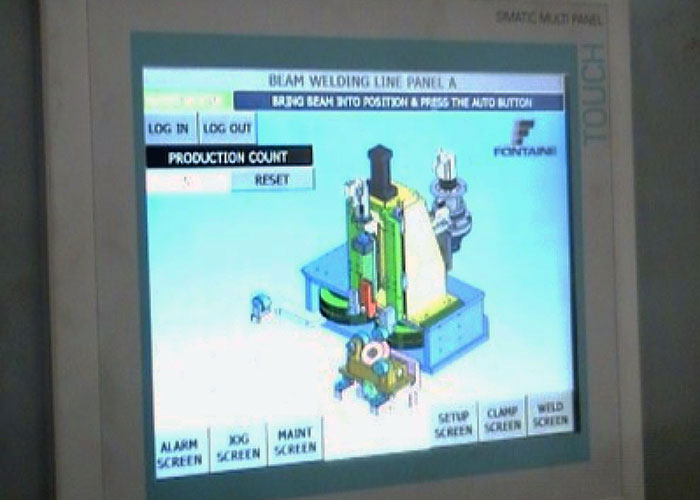 System status display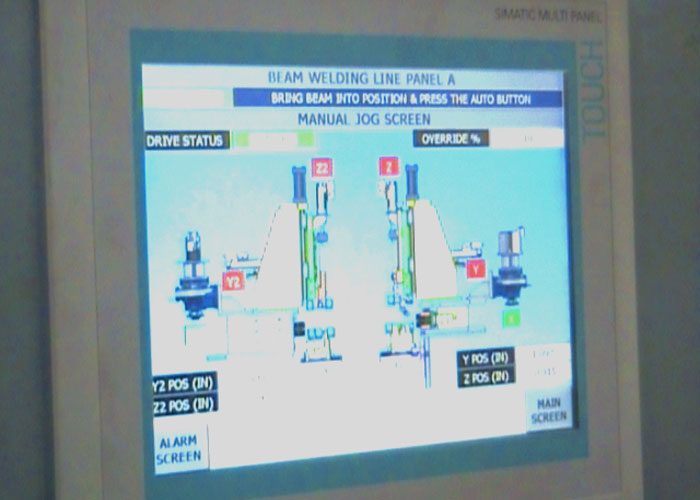 System status display: Jog screen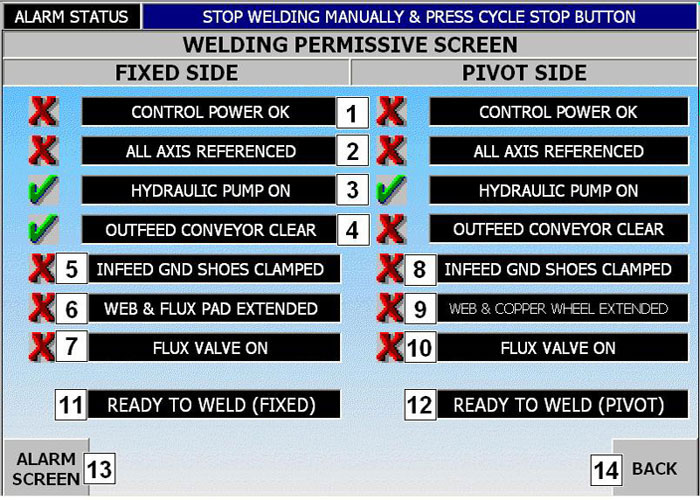 Operator "Weld Permissive" check list
Product Specifications
| | |
| --- | --- |
| Structure | Welded HSS fabrication |
| Beam drive system | Two hardened knurled drive wheels |
| Web height adjustment | Ball screw with AC servo |
| Welding tip adjustment | Ball screw with AC servo |
| Pivot | +/- 15 degrees with respect to the beam |
| Pivot lock | Hydraulic — allows welding to the end of the beam |
| Welding heads | Two-axis AC servo with seam tracking technology |
| Controls | Siemens PLC, motors, drives with 10" colour LCD screen |
| Hydraulic system | Self-contained, 15 HP variable displacement pump at 2900 psi |
Machine Capacity
Web thickness
1/8"
1/2"
Web width
6"
72"
Web taper
15 degrees
Flange thickness
3/16"
1 1/2"
Flange width
4"
20"
Beams length
8'
60'
Beam weight
up to 12,000 lbs
Weld fillet size
1/8"
5/16"
Welding speed
20' per minute
150' per minute
PDF download (right click to save): Pull Thru Welder System brochure
If you are interested in learning more, please call us at 905-681-1580 or send an email to We can email you a link to the video of the welder system in action and we can also arrange a demo for you to see the machine.